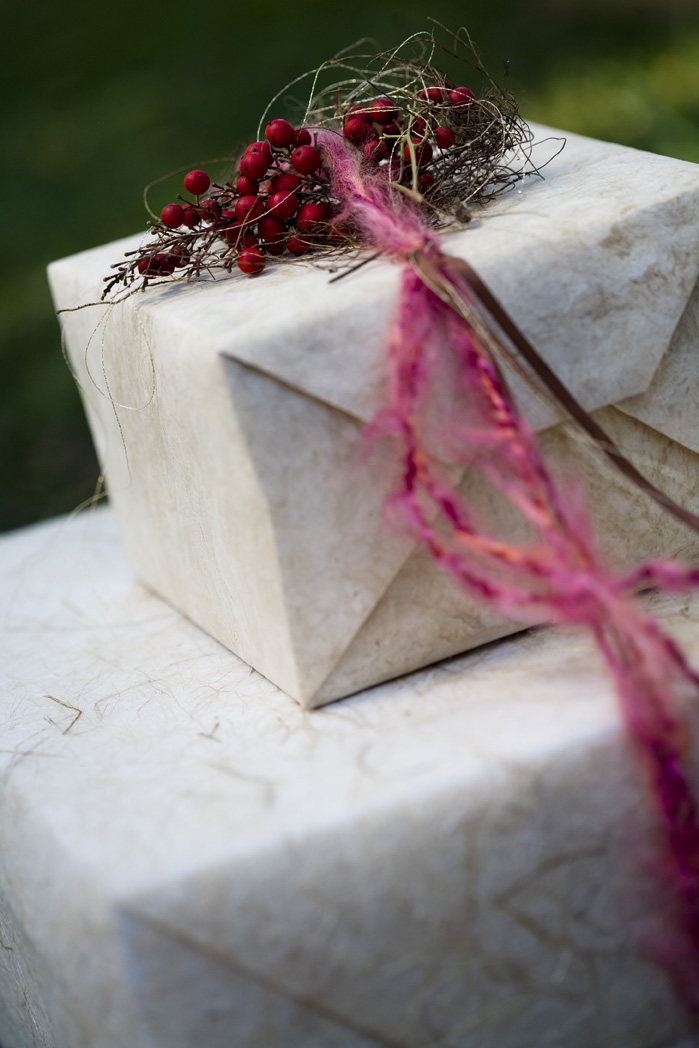 Gift Wrap
Over the years, we have wrapped everything from Christian Louboutin shoes to Harry Winston diamonds, pomegranate trees to plane tickets. As wonderful as the gifts themselves are, we remain steadfast in our belief that each one is just that much more meaningful, memorable and appreciated when dressed in mink-colored iridescent paper accompanied with stems of lotus seed pods, or swathed in multiple wraps of skinny gold twine accented with cerise-red vintage glass berries, or finished with yards of cocoa double-face satin ribbon accented with wire-wrapped crystals. We stock an expansive collection of papers as unusual as gold accented cork and natural-color flax linen, and as sophisticated as the intricately-detailed Japanese silk-screens and the rich, fashionable colors of the sensual "skin" papers. We thrive on the unusual and the extraordinary.
Specialized Soolip Gift Wrap Services . . .
Gift Wrap Kits
Our impeccably curated gift wrap kits are your one-stop-shop for a beautifully styled gift. They are conveniently complete with all of the elements you need to wrap and garnish your gifts including artisan papers, fine ribbons and festive gift toppers. Soolip's gift wrap kits are available in a variety of tantalizing styles for various occasions. Each of our gift wrap kits has been uniquely created by the Soolip Team to embellish a gift deserving of an extraordinary presentation.
On-Site & One-Off Service
Soolip gift wrap is available for on-site services, and are available to fly anywhere in the world. We have the capability to manage a single oversized art piece to a luxury event gifting of 1,000 pieces for both personal and corporate needs.
Gift Wrapping Parties and Classes
Let Soolip host your next party! Whether you are in need of a private gift wrapping tutorial before the busy holiday season or an entertaining party project for a festive evening with friends or a child's birthday party, we look forward to sharing with you the art of gift wrapping.
. . . for inquiries about any of our gift wrapping services, kindly contact us at teri@soolip.com