Gaga Collection
A color and tactile explosion! Over-the-top sumptuous in every way. Hand-marbled, tree-free papers are combined with an electric trio of ribbons including one sparkly ribbon. Fantastical butterflies and a sassy, silky tassel take this gift wrap to the top!
5 yards of each three ribbons (Total 15 yards)

2 Sheets (1 sheet, 31" x 23")

2 Butterflies (2" width)

1 Tassel (6" length, 3" width)
A vibrant mixture of warm tones consisting of bright, velvety orange, shimmery light beige, and sparkly burnt orange ribbons. Complemented with red/ gold marble-patterned gift wrapping paper, magenta and baby blue butterflies, and a contrasting dark purple tassel for a light touch of edge. Perfect for any festive summer occasion.
This set embodies the vision of a night out on the town. A large dark purple ribbon is set as the contrary backdrop for its more exuberant lavender and sparkly counterparts. Red/ black wrapping paper, magenta and royal purple butterflies, and a flirty light pink tassel make the entire ensemble stand out like a star.
A cool combo of dark green, gold, and sparkly navy hues. Included with them is a similar earth-toned wrapping paper that will wisp you away to fresh fields and pine forests. Magenta and lavender butterflies and a sexy charcoal/ purple tassel add light touches of playfulness. Perfect to help welcome the springtime.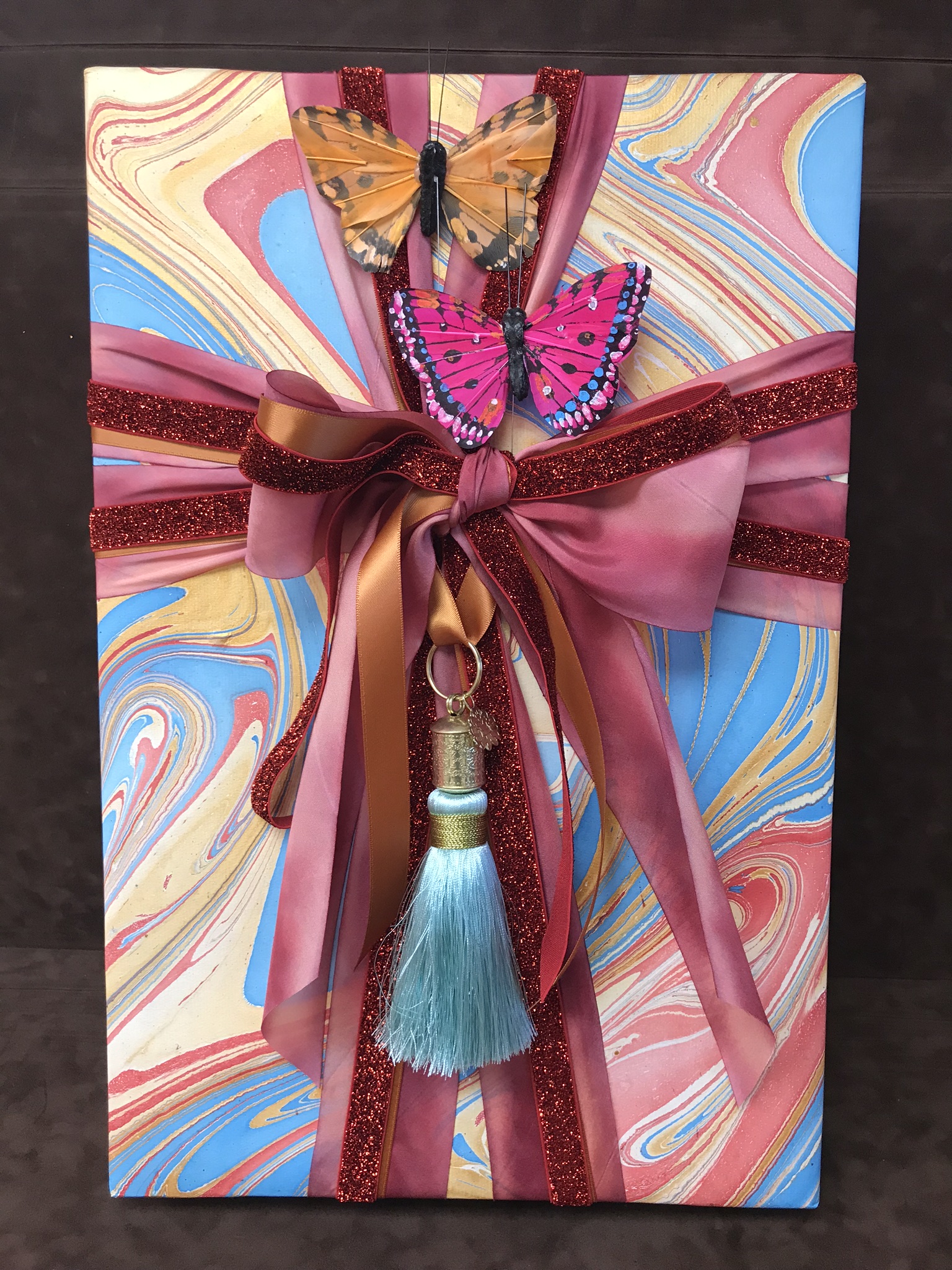 Eclectic and fun, this collection epitomizes the term "youth!" Wrapped in decadent pink, sparkly red, and sunset orange ribbons, this primary-colored gift wrapping paper is a combination to die for. To top it all off, magenta/ orange butterflies and a sky blue tassel make it extra sweet.